Vicky Smith
Hertford Town Councillor for Hertford Bengeo
Vicky has lived in Hertford for 16 years and now resides in the town centre with her husband, two daughters and her rescue dog Murphy. She loves the sense of community and the fantastic green spaces that we are so lucky to have on our doorsteps. The recent destruction of wildlife habitat in Bengeo has served to highlight how precious these spaces are and how important it is that they are protected. A teenage Saturday job at The Body Shop was her introduction to green concerns, sparking a lifelong interest in environmental issues and a desire to change things for the better.
Vicky is a local primary school teacher with a particular interest in SEN, mental health and wellbeing. She is passionate about equality in education and creating opportunities for all children to achieve their full potential. She has served on her school's governing body for 8 years as both staff and parent governor.
When she's not busy teaching, Vicky's interests include reading, walking, running and live music. She's a passionate believer in women's rights, social justice and community resilience.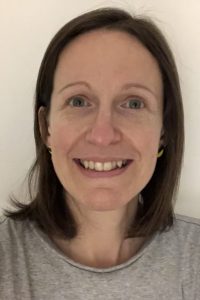 Vicky Says:
During the 2021 Town Council election campaign I pledged to put forward residents' views at Town Council level. These are some of the issues that local people have raised with me so far:
The huge traffic problems currently affecting the town – from the volume of congestion caused by the full-time traffic lights on the A414 to the congested streets of the Bengeo rat run. In many cases there are no easy answers but residents' views need to be heard.
The extensive destruction of wildlife habitat along the railway line north through Waterford and Stapleford and the appalling state that Waterford Marsh has been left in by contractors.
Littering throughout the local area, and in particular in areas where people gather such as Hartham. Given their benefits to mental health, I see the provision of and maintenance of local green spaces as essential and we need to take care of and pride in these amazing resources.
Education and equality of opportunity for young people is hugely important - issues that COVID has made all the more challenging. It's been fabulous to see local people come together to push for a new playground in the town. What else can we do to support our young people?
So many people are unaware of how the layers of local democracy fit and work together. I'd like to increase transparency, engaging with local residents, identifying their concerns and keeping them informed of decision making processes.