Madela Baddock
Prospective County Council Candidate for Bishop's Stortford West
Madela has lived in Hertfordshire for over 30 years and has been an active participant in campaigning and raising awareness on environmental issues during this time, including a campaign to eliminate single-use plastic and more recently supporting the 20s Plenty campaign. She also led the Divest Herts campaign, petitioning HCC to divest its pension funds from fossil fuels.
Her commitment to living sustainably is borne out by installing PV panels on the family home, shopping locally, supporting the local zero waste shop and driving an electric car for her daily commute.
Although working almost full time, she has found time to manage a community garden, set up a local environmental group and work with businesses to encourage a more sustainable business model.
Madela believes that climate change is the biggest challenge our society is facing and that we have to put it at the centre of every decision that HCC make. Voters need to feel confident that their Councillor is working on their behalf to ensure that their welfare and that of their children and grandchildren are being considered with every decision made.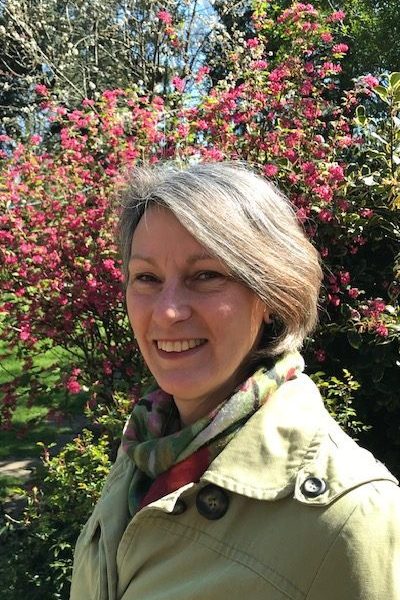 Madela Says:
As your Councillor, you will be able to trust that I care about what matters to you and will work on your behalf to achieve a cleaner, greener Hertfordshire.
Currently, transport links across Hertfordshire are poor. We need more and better connections between towns in order to encourage people to use public transport, thereby reducing the air pollution caused by the number of vehicles on the roads. I also believe that introducing a uniform 20 mph limit on residential roads and installing dedicated cycle lanes in and around towns will encourage more people to cycle for short journeys as well as positioning cycle racks intermittently rather than all in one place in town.
Biodiversity is also an important issue to be addressed and one easy way to increase biodiversity in Hertfordshire is to stop mowing verges, an action I would be pushing for.