Helen Austen
Prospective Borough Council Candidate for Broxbourne and Hoddesdon South
Born in Letchworth Garden City, Hertfordshire, Helen spent many years in London, working for the GLC and then as a community organiser before moving to Broxbourne in 1995 to take up her post as a lecturer at the local college.
She first joined the Green Party in the 70s, because of her concerns over nuclear power and the threats to the environment, but this is her first foray into politics with the Party.
Whilst in North London she helped set up a local Woodcraft Folk group and a project for single parents like herself, with dual heritage children. She also helped inspire a community garden on her local estate. Issues around discrimination, diversity and land use remain a focus.
After contracting M.E., she started working part time, and was looking forward to her retirement only to discover, like other WASPI women, that she had to work for another 6 years. She currently works part time as an online English teacher, teaching people from all around the world, and enjoys singing, art, yoga and helping out at the community allotment.  She is a supporter of Amnesty International and WaterAid.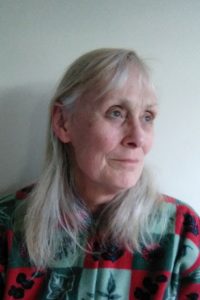 Helen Says:
Broxbourne was much greener and the air much cleaner in the past, so I am keen to work with local people, companies and schools and the Council to foster community growing, rewilding projects, and greener living in general.  Rubbish blights the area more and more, so I also plan to engage with local people and the Council to address this issue.  The last year under lockdown has also reinforced the need to highlight the link between the climate emergency and health but, through bodies like the local Council,  we can work together to make a difference.