David Woollcombe
Prospective County Council Candidate for Buntingford
David is a retired resident of Buntingford. Locally he has founded the Buntingford Action for Climate Change and Sustainability (Challenge: "What do you want Buntingford to look like in 2050?"), lead a successful campaign to Save Buntingford's Library and founded Buntingford Film Club & Summer Arts Festival. As founder, and President for 40 years, of Peace Child International (Registered UK Charity No.1059189 based in Buntingford) he has worked with the UN and local agencies in over 100 countries on sustainability, eco-education & peace issues.
David has vast public office and election experience as a Buntingford Town Councillor, Chair of Governors at Freman College, Buntingford and as a Green Party Candidate for Local Elections, 2016 & 18 and Parliamentary Elections 2017.
He is married with two children and two grandchildren, and spends his spare time enjoying carpentry and writing.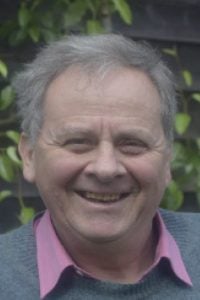 David Says:
My goal is to make Buntingford a Green Leader in Hertfordshire, and Hertfordshire a Green Leader in the UK. A Green Leader in transport; in housing; in planning; in R&D; in green start-ups. Everything. We have so many lost decades under Conservative Councils: endless promises of things like EV charging points, never delivered. They gave us a Shopping Bus that never saw a passenger; a hideous cycle rack that never saw a cycle! Let's defeat Tory incompetence and lack of Vision. Vote Green – for Buntingford's sustainable future prosperity. For Hertfordshire's, for the world's and our children's!
Local issues and campaigns