David Oxley
Prospective County Council Candidate for Bishop's Stortford Rural
David has lived in Hertfordshire for all of his adult life. He retired in 2015, having spent 37 years as a teacher and senior manager in three Hertfordshire secondary schools. He is Vice Chair of his Parish Council, an active member of the Village Hall Committee and Editor of a magazine which covers three villages in the East Herts area. After many years as a Labour supporter he became disenchanted with the lack of real commitment to environmental justice and electoral reform, and joined the Green Party in order to further these concerns.
He is a supporter of Greenpeace and Make Votes Matter. David is married, with two children and three grandchildren. He is a keen musician and regularly performs with various ensembles.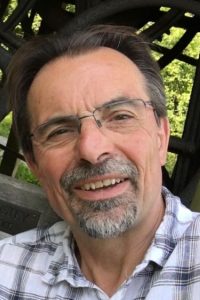 David Says:
As an active Parish Councillor, living in a small East Hertfordshire village, I am acutely aware of the need for affordable and social housing in rural communities. We need to challenge the power of the developers and ensure that we get the housing our communities need, whilst also promoting responsible stewardship of the land.
The Green Party plays a vital role in holding the Tories to account, challenging the complacency and incompetence of the single party stronghold. At the same time, I believe it is important to promote community engagement and to enhance local democracy through the development of localised citizens' assemblies.
If elected, I would speak up for strong action to tackle climate change and strive to make Hertfordshire a 'Green Leader' council. To this end, the council should be encouraged to divest its pension fund from climate-damaging companies.
The Covid pandemic has led many of us to reflect on the sort of world we want to live in and to hand on to our children. It is time for a reset, a new politics, a greener vision for the future. It is time to vote Green.